EVO SNOWBOARD SIZE CHART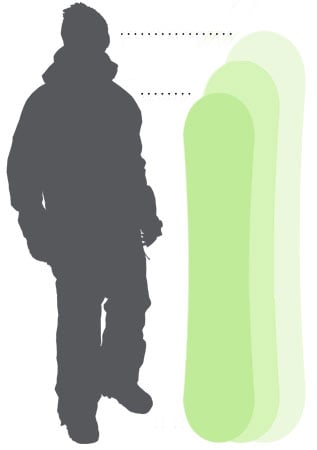 How do you pick the correct snowboard length? The length of your snowboard will vary depending on your body weight and the type of riding you plan to do. Back in the day, traditional snowboard sizing meant you stand next to the snowboard and if the top hits your chin, great, it fits! While that may be a good place to start, weight is also very important factor in determining the appropriate board length. And another important consideration is the type of riding you plan on doing.
So, for example, if you are going to be mostly freeriding consider getting a slightly longer board for more stability and speed. If it's a freestyle tool you are looking for, consider smaller sizes that will be easier to spin and maneuver in the terrain park or half-pipe.
On each evo snowboard product detail page, you'll find individual size charts for each of the snowboards we sell. Remember, the length is as much personal preference as anything, so don't get too hung up on the recommendations if you ride a longer or shorter board and are happy with it. Use our Snowboard Size Chart below for a starting point:
EVO SKI SIZING CHART

The truth is that there is no magic formula for determining the perfect size ski for every skier. Factors such as height and weight provide an excellent starting point but there are other things to consider. Ski category, snow type, terrain and personal preference are just some of the things to take into account. The general rule is to pick a ski length that is somewhere between your chin and the top of your head. Advanced and expert skiers may choose skis that are slightly longer than head height.
Skier Height in feet & inches
Skier Height (cm)
Suggested Ski Lengths (cm)
Shop Skis by Length (cm)
4'4″
132<
115-130
130-139
4'6″
137
125-140
4'8″
142
130-145
140-149
4'10"
147
135-150
5′
152
135-155
150-159
5'2″
158
145-165
5'4″
163
150-170
160-169
5'6″
168
155-175
5'8″
173
160-180
170-179
5'10"
178
165-185
6′
183
170-190
180-189
6'2″
188
175-195
6'4″
193
180-200
>190
All information in this section have been copied from the official EVO web site guide.